Via Algarviana - mountains and foothills
A wonderful way to get to know the charming interior from the central Algarve. This surprising walk from the Serra do Caldeirão mountain range into the lower Barrocal area. No it is not all the way down. But obviously after 4 days walking the undulating, meandering paths the destination of Silves is at lower altitude than the starting point of Barranco do Velho where we will transfer you after your arrival in Faro. Finding your way, as similar to the streams and little rivers bringing the precious mountain water to the red coloured Barrocal clay irrigating this fertile land to produce its local quality produce of almond, fig, carob and honey. Not to mention the oranges for which Silves, besides honouring its rich Moorish historical back ground, can be considered the capital.
Via Algarviana Accomodation Service
We can book accomodations and organise your luggage transfers along the Via Algarviana.
4-day hike along the Via Algarviana from Barranco do Velho to Silves.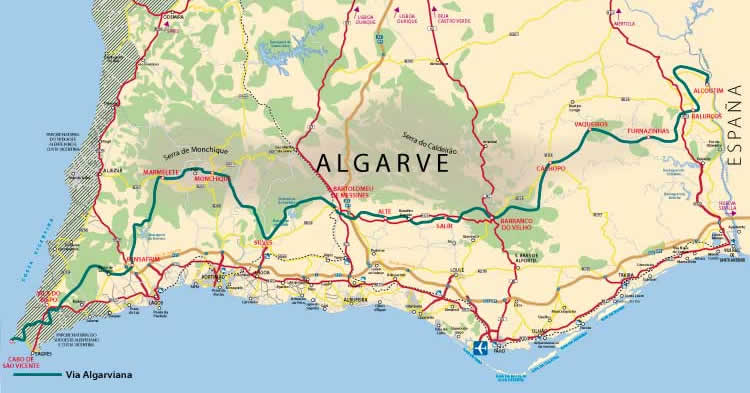 Itinerary
Day 1. Transfer from Faro Airport to Barranco do Velho
Day 2. Hike Barranco do Velho - Salir (15 km)
Day 3. Hike Salir - Alte (16 km)
Day 4. Hike Alte - São Bartolomeu de Messines (19 km)
Day 5. Hike São Bartolomeu de Messines - Silves (28 km)
Day 6. Transfer Silves to Faro Airport
Prices
Costs per Person sharing a double or twin room:
January - March: 420 Euro
April - Juni: 460 Euro
July - August: 510 Euro
September - October: 460 Euro
November - December: 420 Euro
Including:
Transfer from Faro Airport to the starting point in Barranco do Velho
Transfer from Silves back to Faro Airport
5 Nights accommodation sharing a double or twin roomw including breakfast
4 x luggage transfer between hotels
Hiking maps
The programme above can be adjusted individually. For example an extra day to rest and relax during the week can be recommended.
Prices are per person and do NOT include a walking guide. The set up is orientated towards the independent hiker.
Bookings and enquiries: toursandtracks@mail.telepac.pt
In co-operation with Walks in Portugal
---